Okay so I got bored & I was in pain this evening. Have some wallpapers with D.Gray-Man characters. Reever is from Chapter 139 and could be spoilerish. Ye be warned.
I learned from
this
tutorial but changed it to fit my own images/likes. I also did not add font. All of these are the 1024 x 768 screen size. Take and use if you like 'em. Please comment if you love/hate them and if you are snagging.
Teaser: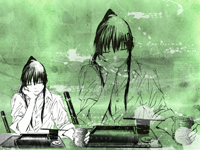 (
Collapse
)
Thanks for looking!
Go
HERE
if you have a request for a graphic.